Amateur Sports Mobile Gateway

Fabyon Harris chooses Houston!
MATTESON - Fabyon Harris, 5'8" guard from Hyde Park, chose Houston over DePaul, Cincinnati and a number of other schools. He plans to sign his national letter of intent with the Conference USA school at a ceremony at Hyde Park on Friday night.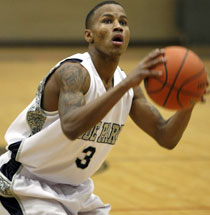 Phil Velasquez/Tribune

"It's a relief to get it over," said Harris, who in the last month has lost his brother, a close friend and a cousin to street violence. "I like everything they showed me down there. It is the best thing for me to leave Chicago."
Congratulations Fabyon and much success!

Business / Financial

Entertainment

Health

Miscellaneous

News

Sports

Technology

Travel / Directions
For broken links, or to submit a link, click here: mobile@sefitch.com. Click here for Terms of use.
Copyright © 2009. All trademarks mentioned in this web site are the property of their respective owners.