Mother's in sports
Feel free to add share this article...
| More
It has been said that "behind every great athlete is a great woman." And I'm not talking about his girlfriend or even his wife.

I am talking about the special lady who drove us all to practice everyday, even if it was at 5 a.m. I am talking about that special lady who gave us a hug after a tough loss, or a band-aid and kiss after a rough game. Moms in sports get a bad rap. You think the stage mother turned cowbell ringing freak in the stands who just won't sit down and "shut up" so someone can hear the ump. But Mother's Day is here, and it's time to shine a light on some of the coolest moms in sports.

Here are a few Mom's in Sports
Candace Parker
One of The Stir's Sexiest Moms Alive in 2010, this WNBA player mixes super talent on the basketball court with supermodel beauty and a quiet strength that makes her a joy to watch. A mom who amazed us when she showed she was ready to ball just six weeks after giving birth, she's got the admiration of the fans -- her jersey is often the hottest seller in the WNBA -- and moms who don't give a whit about basketball too.

"What were the biggest challenges training both during and after your pregnancy?
I felt really good during my pregnancy. I trained pretty frequently, probably five days a week. I would do elliptical for 20 to 30 minutes, then shoot and stretch. I trained up to three days before I had Lailaa and the only reason for that was because I had her on the weekend and I was taking weekends off. Back on the court, my timing was off from not playing for so long—my reactions, jumping, coordination—it takes a while to get that back.
Laila Ali
Professional Boxer Laila Ali has become quiet the fitness expert since giving birth to her first child Curtis Muhammad Conway, Jr., 7 months. Laila is now the "pregnancy fitness expert" for Fit Pregnancy magazine. Ali, 31, dishes out advice about prenatal and postpartum fitness, diet and weight issues. Here is one such advice:

"Our bodies naturally store extra fat to support a pregnancy, but it's important not to add to it by eating high-calorie fatty or sugary foods. Try to get in the habit of eating small meals and snacks throughout the day, focusing on lean proteins and high-fiber foods, such as fruits, vegetables and whole grains, as these will help keep you feeling full. Above all, don't overeat: Extra weight will be hard to get off later. If you were already working out before your pregnancy, you should continue but perhaps at a less intense level, depending on your routine. If you were sedentary, start walking or doing some other form of light cardio exercise for at least 30 minutes three to four times a week. In either case, consult your doctor first."
Sheryl Swoopes

Shortly after helping the U.S. basketball team win the gold in Atlanta in 1996, Swoopes discovered she was pregnant. That was a problem, because the brand-new WNBA was promoting her as one of the league's marquee players. The first woman with a Nike signature sneaker rushed back for the end of the inaugural 1997 season just six weeks after giving birth to a son (named Jordan, of course). She played nine games and helped the Houston Comets win the first of four consecutive championships. Swoopes increased her scoring average in each of the next three seasons, winning MVP honors in 2000 and later in 2002. Along the way, she added two more Olympic gold medals to her haul in 2000 and 2004.

GIFT IDEAS FOR MOTHER'S DAY



Kim Clijsters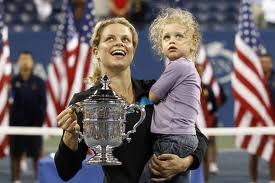 Being mom to little Jada Ellie (born in 2008) couldn't keep this Belgian tennis star off the court. Retired in 2007 to start a family at 23, Clijsters came back out with racquet swinging in 2009, earning her a spot on TIME's Most Influential People list this year after rebounding back up to Number 1 Player in the world.
Justine Siegal
She's not just the first woman to pitch in the Major Leagues -- as if it that even qualifies for a "just" -- Siegal is the founder of Baseball for All, a nonprofit that aims to provide "meaningful instruction and opportunities in baseball, especially for girls." The program just launched an online component on LockerDome, meant to bring the "over 100,000 girls in the United States" who play baseball together in one space to help encourage girls leagues to grow. The mom of a teenage daughter, Siegal says it's a simple way to change the world: "If you tell a girl she cannot play baseball, what else will she believe she cannot do? But if you tell a girl she can play baseball, what else will she then believe she can do?"

Kerri Walsh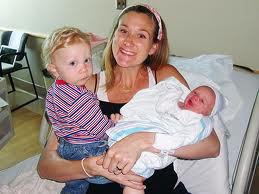 Two-time Olympic champ and 2010 Totally Sexy Mom, Walsh continues to amaze us every day she puts on a bikini and heads out on the beach volleyball sand ... after all, how many ladies do you know who are that brave after giving birth? Or that GOOD at bumping and setting for that matter?
Jenny Potter -- Think it's hard being a mom? Try being the only mom on the USA Women's Hockey team, as well as captain of the squad that just brought home its THIRD world championship in a row.
Jennie Finch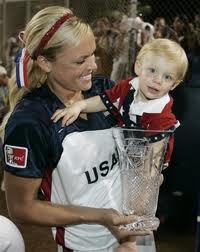 A mom of one with another on the way this summer, TIME magazine once described Finch as the most famous softball player in history. Her gold and silver medals from the Olympics don't hurt, nor does her work with the Women's Sports Foundation and her softball camps!
Dara Torres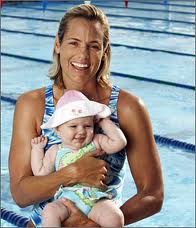 A 12-time Olympic medalist, this swimming mom was the first female athlete to grace the cover of the Sports Illustrated Swimsuit edition. And nothing slows her down -- she was 41 when she threw herself into the water to qualify for the Beijing Olympic Games.

Toussaud
Studs get all the press for their breeding prowess, but horse racing's dirty secret is that male thoroughbreds are the ultimate deadbeat dads. While top sires may "cover" up to 100 mares a season before sneaking off for a rubdown and some oats, nature limits broodmares to one foal per year if all goes well. The 16-year-old Toussaud is perhaps the greatest broodmare of all time, giving birth to four Grade 1 stakes winners, including Belmont Stakes winner Empire Maker and Arlington Million champ Chester House. She was no slouch on the track herself, winning seven of 15 career races on the turf and never finishing worse than fourth.
Fanny Blankers-Koen
The "Flying Housewife" first qualified for the Olympics as an 18-year-old in 1936, finishing sixth in the high jump. By the time the Games returned in 1948 after a 12-year absence due to World War II, Blankers-Koen was a then-ancient 30-year-old with two children. Few regarded her as a serious competitor, but Blankers-Koen won four gold medals by winning the 100, the 200, the 80-meter hurdles and anchoring the victorious 4x100 Dutch team despite receiving the baton in fourth place. No female track and field athlete has matched that haul in a single Games.
Helen Candaele St. Aubin
Picture Geena Davis from A League of Their Own, because Candaele was the model. Candaele, then Helen Callaghan, joined the All-American Girls Professional Baseball League in 1944 with her sister Marge. Helen eventually became known as the "Ted Williams of women's baseball." But she had much better speed than the Splendid Splinter, swiping 114 bases one season in addition to leading the league in batting average in 1945. Helen married a hockey player and had five sons, hitting them grounders and fly balls and teaching them to hit. One of them, Casey Candaele, later played nine seasons in the majors. A second son, Kelly, made a documentary about the AAGPL that was adapted into the feature film.
Joy Fawcett
The soccer defender interspersed 17 years on the U.S. national team with giving birth to three daughters. Fawcett was the only player to play every minute of the 1995, 1999 and 2003 World Cups and the 1996 and 2000 Olympics, even though she gave birth in 1994 (Katelyn), 1997 (Carli) and 2001 (Madilyn). Fawcett helped the U.S. win two Olympic gold medals and two World Cup titles along the way. She and fellow mom-defender Carla Overbeck even convinced the U.S. Soccer Federation to provide a full-time nanny in 1999.
Juno Irwin
The American diver won Olympic bronze on the platform in 1952 while 3½ months pregnant with her second child. Irwin returned four years later in Melbourne (with three kids in tow) to add a silver. Then in 1960, she finished fourth in Rome. Honorable mention goes to German archer Cornelia Pfohl, who competed in Athens while seven months pregnant. Pfohl finished out of the medals, but did score a bronze during the 2000 Games in Sydney while a mere three months with child.
Nancy Lopez
The Hall of Fame golfer had three daughters with former third baseman Ray Knight in the midst of her career. Of her 48 career LPGA victories, 21 have come as a mom, including two of her three majors. Jack Nicklaus is famous for maintaining his focus while raising a large brood, but the Golden Bear never actually had to deliver any cubs. Juli Inkster earns honorable mention by playing her best golf as a mother of two daughters, winning four majors from 1999-02, the last with a 12-year-old and an 8-year-old along for the ride.
Liz McColgan
The Scottish distance runner trained 85 miles a week during the first three months of her first pregnancy in 1990, then 35 miles a week through the seventh month, then three miles every other day during the eighth. Four months after giving birth to daughter Eilish, she won a bronze medal at the world cross-country championships. Nine months after delivery, she won the world championships in the 10,000 meters. A year after giving birth, she ran the fastest debut marathon (2:27:23) by a woman in winning the New York Marathon. She later interspersed the birth of three sons with more world class long-distance running.
Denise Smith
The mother of Utah Jazz guard Deron Williams did more than drive her son to games and supply oranges, as vital as that role is to prospective athletes. A former point guard at West Virginia's West Liberty State, Smith coached her son's youth-league basketball team and taught him the importance of unselfishness. "I was the best player on my team and I could have shot every time," Williams says. "But she wouldn't let me do that. She wanted me to pass it and make everybody better." Honorable mention goes to Sylvia Vaughn, who taught her right-handed son Maurice to swing for the fences left-handed as a 3-year-old so he could grow up to be a major league slugger. You probably remember him as Mo.

Margaret Smith Court
The Australian had already won 21 Grand Slam singles titles, including all four events in 1970, before giving birth to her first of three children in 1972. Court was right back where her name suggested a year later, winning the U.S., French and Australian Opens. Only a semifinal loss to Chris Evert at Wimbledon stood between her and a second Grand Slam season. Evonne Goolagong Cawley earns honorable mention by winning the 1977 Australian Open seven months after giving birth, and in 1980 became the first mother to win Wimbledon since Dorothy Chalmers in 1914.


| | |
| --- | --- |
| NOTE: We are proud to announce that for the entire month of May, S.C. Fitch Enterprises, and all of its affiliates including Amateur Sports News Network, ASNN365.com, and Amateur Sports Gallery will be honoring May as National Teen Pregnancy Prevention Month. This Campaign was founded in 1996 to work exclusively on decreasing teen pregnancy in America, and at the outset challenged the nation to reduce the teen pregnancy rate. Unplanned pregnancy is at the root of a number of important public health and social challenges. Click here for more information. | |
Here is your opportunity to stop hating the media and actually become it!
We are always looking for additional personnel. Click here if you are interested. If you would like to submit a story, score, stats, or even photos, click here.