FINDING football camps
Feel free to add share this article...
| More
| | |
| --- | --- |
| As the baseball season crawls into the dog days of summer and while the NFL battles back-and-forth in their lockout, High School football programs are hard at work. Summer can be an opportune time for high school athletes to assess and develop skills. This is especially true for fall sports like high school football. During football season the focus is on team conditioning and team play execution. Thus, players are often encouraged to attend summer camps by their coaches to develop necessary skills. For an ambitious football player, summer camp can represent an opportunity to enhance skills. For the athlete there are many other possible benefits of attending a high school summer football camp. However, there are costs and trade-offs with other possible summer time activity. Academic pursuits, summer travel, summer jobs, community service, family obligations and other activities can rapidly deplete available weeks in the summer. Given the limited time during summer vacation, the other competing activity and the costs, a high school player or parent wants to be in a position to optimally select the right football camp. How do you decide which football camp to attend? The decision may have already been made for you. | |
First, you will want to determine if your high school football coach has a camp which he wants players to attend as a group. Some camps encourage players from the same school to compete as a team during the camp. This is often true for passing camps or any camp with 7 x 7 passing drills. Clearly your first priority will be to attend the camp recommended by the coach.

If your coach has not recommended a single camp for everyone to attend as a group, or, if you wish to attend additional camps, you first have to determine what camps are available in your area and how far you are willing to travel to a particular camp. You also have to determine the characteristics of those camps to decide if they are right for your son. Camps can attract football players locally or regionally or nationally. They can be sponsored by individual public or private high schools, colleges and universities and commercial firms or some combination of all three. In addition to camps there may be summer leagues focused on one aspect of football which might meet one day a week, such as a passing league or a kicking league. Some camps welcome middle school and high school players and segregate drills by age. Other camps only focus on raising seniors who are the focus of recruitment by colleges and universities. Most camps focus on 9-12 and segregate 9th and 10th from 11th and 12th. I have come up with 10 metrics which you can use to evaluate summer high school football camps and I have applied these metrics in evaluating some of camps.
College and High School coaches who choose to work our High School Football Camp do so because of their interest in:

1. Working with you the individual camper.
2. Evaluating you as a football player.
3. Working with the University of Michigan Coaching Staff.
4. Networking with other coaches working camp.
NOTE: Homewood-Flossmoor high school is holding youth football camps... for more, click here!
When investigating summer football camps, you should evaluate the following:

#1. SCOPE (Geographical draw) OF CAMP: Who sponsors the camp and how far do they cast a net in order to attract players? Is the camp national in scope (attracts players from many states and countries), regional in scope (attracts players from the northeast), local in scope (attracts players from eastern Massachusetts) or other, such as attracting players from specific conferences or leagues. Some camps, like the Boston College football camp, are national in scope, attracting 5,000+ players over the course of three weeks from 24 states, and 4 countries. http://bceagles.cstv.com/camps/bc-m-footbl-camps.html Camps like the New England Elite Camp attract from all of New England and New York, New Jersey and Pennsylvania and are regional in scope http://www.neelitefootballclinic.com/Elite_2007.html. Camps like the Bay State Camp are local, covering many public and private schools in the metro west area of Boston such as Natick, Walpole, Needham, Norwood, Franklin, Foxboro, Holliston, and Millis. The Roxbury Latin Camp also draws players from a similar area but also draws many from the 16 team ISL (Independent School League) which includes some of the nations top private schools. The Roxbury Latin Camp is more league focused. The Rhino Camp run at Dover Sherborn high school has a very local draw and is a conditioning camp as well as a skills camp.

#2. OVERNIGHT: Is the camp a day camp? an overnight camp? What are the accommodations for an overnight camp? What are the evening activities for an overnight camp? Boston College is an overnight Camp with players staying in the student College Dorms. Local players can also commute. Most camps are day camps. In some cases where parents and players come from afar, local accommodations are used. Boston College should be considered an overnight camp and the others camps I have mentioned, day camps.

#3. PLAYER DEMOGRAPHICS: Most high school football camps welcome campers from grades 9-12. Some expand the age range of campers by segregating the campers by age and also welcome campers as early as 5th or 6th grade. Regardless of who they admit, camps have a tendency to focus on specific grades such as rising seniors. Boston College camps admit 9-12, but segregates 9-10 from 11-12. The Elite Camp segregates 9th from 10th -12th but there is a heavy emphasis on showcasing seniors. Roxbury Latin welcomes campers from 7th through 12 matching the enrollments of most of the schools in the ISL.

#4. TYPE OF CAMP: What type of summer football camp are you looking for? Is it a skills camp where the focus is on individual player and specific position skills? Is it a conditioning camp where the focus is on getting the players in condition and ready for the season? Is it some combination of both? For conditioning camps are the players expected to show up in condition? All the camps in this survey emphasis skills, except for the Rhino Camp, which is more of a conditioning camp.

#5. CONTACT: Are the camp drills contact (with equipment) or non-contact (just helmets) or something between? Are helmet and shoulder pads required? Are full pads required? Do you need to secure equipment from your high school before the camp? Boston College is just helmet and cleats. All the other camps required shoulder pads. The Roxbury Latin camp has the most hitting drills.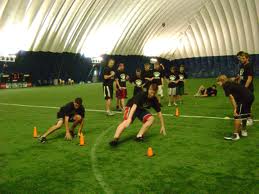 #6. CAMPERS SKILL LEVEL: In general the broader the geographical scope and the greater number of participants, reflect higher level of skills on the part of the players. Camps like the BC Camp tend to attract Division 1-A (FBS) aspirants.

#7. ORGANIZATION OF PLAYER ACTIVITY: It is helpful to find out what type of drills the skills players and the lineman will have at the camp. What time of day is the camp run? Is the camp run during the day or during the evening? What is the duration of the camp? Is the camp duration one day or one week? What is the level of contact in the camp? Are the campers expected to wear just helmets or helmet and shoulder pads? How are activities organized? By Team, Age, Grade? Position?

#8. RATIO of COACHES TO ACTIVITIES: Individual instruction and feedback can greatly benefit a camper. The ratio of coaches to campers is an important factor in determining the attention each camper will get. It is a very important metric in evaluating any camp.

#9. RECRUITING ACTIVITY: Many camps tout the exposure that the camper will receive from prospective college coaches. What coaches will be present? Visibility/Exposure? What information is collected? Coaches that come to camps to recruit usually already know who they are looking for and what they want to see. Moreover, NCAA rules sometimes limit the level of recruiting that can go on at a camp. While some camps are sold based on who will be there to recruit, these claims should be heavily discounted.

#10. FACILITIES: Indoor and outdoor. How may sessions each day? Artificial turf vs. real grass, dirt. What do the facilities look like? Is the camp set up to move indoors on very hot days or inclement weather conditions.

#11. COSTS and opportunity costs Camp Imperative? Who are the sponsors of the camp and what is their agenda? This is important in evaluating commercial camps.

#12. TYPES OF INSTRUCTION - In addition to on field instruction does the camp also use classroom instruction? Video?

#13. INTENSITY OF ACTIVITY: Do the drills keep the players busy? Are the lines so long that a player will only get few turns at the drill?

#14. SAFETY - What facilities/trainers are available or on call?

Many schools have already gone through a full two-week camp at the school and are preparing for camps on the road. For the most part, coaches try to groom the team to focused on the basics and not on individuals before the season starts. Also during this time, coaches being implementing and installing their offense and defense schemes. So, good luck and remember to stay hydrated...

Here are some Chicagoland football camps:
http://www.campchannel.com/Illinois/FootballCamps.cgi
http://www.sportscampconnection.com/illinois-football-camp-IL/
http://www.hsfootballweb.com/camps.htm
| | |
| --- | --- |
| NOTE: We are proud to announce that for the entire month of June, S.C. Fitch Enterprises, and all of its affiliates including Amateur Sports News Network, ASNN365.com, and Amateur Sports Gallery will be honoring June as Home Safety Month. The Home Safety Council has created ready-made home safety resources that you can share with family members, your community members, employees/coworkers and many more to help encourage people to take a hands-on approach to making their homes safer. Click here for more information. | |
Here is your opportunity to stop hating the media and actually become it!
We are always looking for additional personnel. Click here if you are interested. If you would like to submit a story, score, stats, or even photos, click here.

FOLLOW US...