illinois state football finals recap....
What a fun season... a lot of new teams have edge their names in the record books while others have made a solid attempt to build their reputation around the state... But this weekend, the final weekend in the month of November is for the best of the best...

CLASS 8A STATE FINAL
Bolingbrook 21, Loyola 17
CHAMPAIGN—It wasn't pretty but Bolingbrook is the Class 8A State champions edging out top-ranked Loyola 21-17 for the first state championship.

Aaron Bailey threw two interceptions and fumbled it just as many times but in the end, it was his leadership ability and poised that captured this state title.






"I just trusted in God and didn't worry at all," said Bailey, who rushed for 149 yards and two touchdowns and threw for 140 on 8-for-13 passing. "It wasn't our normal game, but we won. This is not just for us, the 2011 football team. It's for the community, the fans, family, everybody. It is truly a blessing."

The Raiders was able to move the ball but Loyola's QB, Malcolm Weaver (10-for-31, 99 yards) handled the balls possession a little better. This is why the Ramblers jumped out to a 17-14 lead after a 40-yard field goal by Will Cushwa with 1 minute, 48 seconds left in the third quarter.

But the Loyola's defense contained Bailey for most of the game until he was able to slowly get teh ball down the field for their final score which won them the game.

"That's the fastest defense in the state, easily," Weaver said. "They made a lot of big plays. Their defensive line is fast and their defensive backs are big and fast and make a lot of plays on the ball."

CLASS 7A STATE FINAL
Rockford Boylan 21, Wheaton Warrenville South 14
"Lamont Toney wiggled his way for 72 yards on the Titans' first play from scrimmage for a quick lead, and Boylan was dancing again, this time on the field, after a 21-14 victory against Wheaton Warrenville South in a rare matchup of defending state champs. 'It means a lot,' Boylan running back Tyreis Thomas said. 'A lot of people came out and said we couldn't do it.'"

CLASS 6A STATE FINAL
Prairie Ridge 35, Peoria Richwoods 14
"It is extremely gratifying to get to this point," Prairie Ridge coach Chris Schremp said. "After the (last) game last year, the next Monday they were ready to go in the weight room. These guys work like champions... We constantly reminded them in the summer and practice if our goal is to win a state championship, we have to work for it. What an awesome life lesson that if you work hard and do things the right way, you can reach your goal."

CLASS 5A STATE FINAL
Montini 70, Joliet Catholic 45
CHAMPAIGN—What a high scoring, record-breaking game at Memorial Stadium in the Class 5A State finals giving Montini their their consecutive championship over Joliet Catholic 70-45.

Montini's Jordan Westerkamp set an all-class receiving yards record for a state title game with 331 yards on 11 catches, five of which were touchdowns.

"He's gotta be the best in the state," said Montini's Rhode, who set an all-class state title game record with 587 passing yards and was 3 yards shy of tying the all-time single-game record of 590 yards set by Rochester's Wes Lunt this season. "If anyone doubts him they are completely out of their minds."

Joliet Catholic's Isaac ran for an all-class state final record 515 yards — 376 in the first half — and six touchdowns, only the third time in recorded state history a back in Illinois has topped 500 in a game.

"It was a bit demoralizing," Westerkamp said of Isaac's performance. "It was like, 'Oh, boy. Here we go.'"

And there both teams went. And went.

There were 14 scoring drives that lasted less than two minutes, and seven under a minute. The teams combined for 1,644 yards of total offense, and the 115 combined points is most in a title game.

Isaac had touchdown runs of 71, 63, 56, 66, 2 and 69 yards. The junior also lost two fumbles and threw an interception.

Westerkamp, a Nebraska recruit who has the all-time state record for career receiving yards and touchdowns, had TD catches of 4, 54, 5, 69 and 94 yards. His 331 yards are second-most in a single game in state history.

Rhode's seven touchdown passes also were an all-class title game record and 29-for-45 for 587 yards.

"It's very humbling when somebody scores 70 points on you," Joliet Catholic coach Dan Sharp said. "We picked a bad day to not play real well on defense. Their skill people are as good as we've ever seen, especially Westerkamp."

FRIDAY, NOVEMBER 25
FOOTBALL - PREP BOWL


Mount Carmel 34

, Simeon 20

It's something about Soldier Field and Brandon Greer... just about every time he plays on this field, he dominates and wins, and this years' 78th Prep Bowl was no different. The Caravan knocked off Simeon 34-20.

Greer finished the game with 216 yards and a pair of touchdowns.

"I definitely do like playing here, and it's a blessing to end the season with a win in this stadium," said Greer, who had 140 yards in the Caravan's season-opening triumph over Simeon. "We got everything straightened out in the locker room at halftime, and our coaches got on us pretty good. It definitely paid off in the second half."

Even with Arkansas-bound quarterback Robert Gregory out with an early ankle injury, the Wolverines battle back. They took an early 7-0 lead

"When Robert went down, I knew I'd have to step in and do the job," backup quarterback Elcee Burke said. "Once I settled down, I felt pretty good, but we didn't have enough to catch them at the end."

But unfortunately, Mount Carmel went on to score 27 straight points to secure the victory.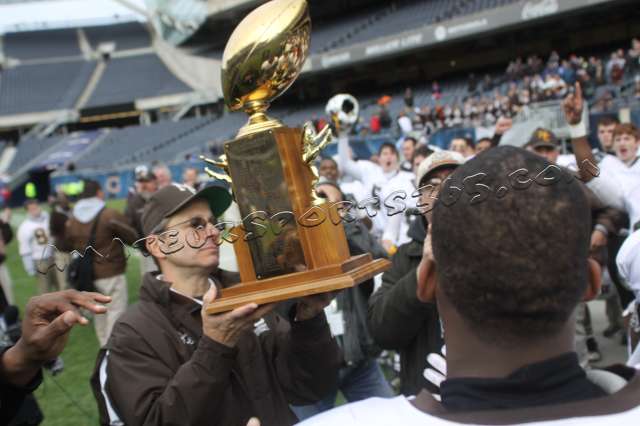 The win gave Mount Carmel its record 11th Prep Bowl title and first since 2001. Simeon is 0-6 in Prep Bowl appearances,

| | | |
| --- | --- | --- |
| | Greer was named the MVP of the bowl game. | |


Here is your opportunity to stop hating the media and actually become it!
We are always looking for additional people to submit stories, scores, stats, photos, video, etc...
| | |
| --- | --- |
| NOTE: We are proud to announce that for the entire month of November, S.C. Fitch Enterprises, and all of its affiliates including Amateur Sports News Network, ASNN365.com, Amateur Sports Gallery and Kennel Sports Talk will be honoring this month as well as donating a portion of our online services to National Diabetes Awareness Month. | |
FOLLOW US...